Las Vegas
Las Vegas … so much to do, so little time. Here are 10 Vegas Must Do's to add to your agenda.
Take a photo at the Welcome to Fabulous Las Vegas, Nevada sign
Created in 1959, the Welcome to Fabulous Las Vegas sign is an iconic symbol of Sin City spawning souvenir T-shirts, key chains and even knockoffs of the sign itself (a replica can be found on Boulder Highway as well as at the entrance to downtown Las Vegas). People once risked their lives running through traffic to pose next to the famous sign, located on the Strip just south of Russell Road (near Mandalay Bay). Thankfully, a small parking lot was built next to the sign in 2008 transforming the sign into a tourist trap instead of a death trap. Oh, and it's free.
Shoot a zombie in the face
No matter where you stand on the issue of gun control, we're willing to bet you'll be the first one to shoot a zombie in the face with an Uzi when he tries to eat your brain. Practice your life saving tactics in advance of the approaching Zombie Apocalypse by shooting an AK 47 at facilities throughout Las Vegas including Range 702, Machine Guns Vegas and the only gun range on the Las Vegas Strip, Strip Gun Club. Choose from the traditional faceless, sexless person target as well as civilian-eating zombie.
Drive a car really fast
Vegas is THE town for playing fast and loose, so why not slip in the driver's seat of a high-performance vehicle and do just that?! Drive full throttle in a Ferrari, Lamborghini, Aston Martin, Porsche or Audi at Exotics Racing or race like a pro in a V-8 NASCAR-style stock car at the Richard Petty Rookie Driving Experience. For an added rush, drive a Ferrari F430 GT race car -- a car that isn't even street legal -- at Dream Racing Experience. Hot rodders will get their kicks by hopping into a 2013 Chevrolet Camaro ZL1, 2013 Dodge Challenger SRT8 392 and 2013 Ford Mustang Shelby GT500 at the Richard Petty American Muscle Car Challenge.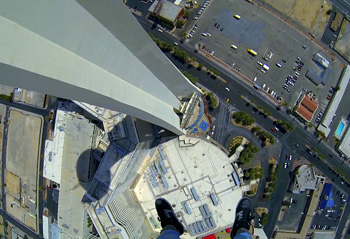 Jump off the Stratosphere
Conquer your fear of heights and your fear of falling while earning a ton of street cred on SkyJump Las Vegasat the Stratosphere. After suiting up in a branded jumpsuit and harness, you will ride an elevator to Level 108 of the tallest building west of the Mississippi then step off a platform 855 feet above the Las Vegas Strip on this controlled free fall.
Experience Elvis
Elvis rolls on in Las Vegas like a bad Rick Astley meme. You can find him on many a Las Vegas stage, immortalized in wax at Madame Tussauds, standing up at your wedding or hanging out at the local pharmacy.
Be a rock star for a day
Unleash your inner rocker on stage with real rock musicians at Rock Star for a Day or Rock and Roll Fantasy Camp. At Rock Star for a Day you can jam with select musicians who have recorded with bands like KISS, Guns N Roses, Aerosmith, Heart, Mötley Crüe, YES, Quiet Riot, Bad Company and more. Rock and Roll Fantasy Camp, meanwhile, puts you in studio and on stage at MGM Grand with epic performers like Dave Navarro, Roger Daltrey, Alice Cooper, Sammy Hagar and more. Rock on!
"Hang out" at a topless optional pool club
This one is fairly self explanatory. Vegas pool clubs where the girls are hanging out include Moorea at Mandalay Bay, Bare at The Mirage, Venus Pool Club at Caesars Palace and Naked at Artisan.
Dance like a stripper
Las Vegas offers plenty of opportunities for the girl next door to dance like a stripper. Whether taking a stripping class like XBU – X Burlesque University or Stripper 101or gyrating on the stripper pole in your VIP Party Bus, you too can feel the unsatisfying allure of glassy eyed detachment and daddy issues while grinding strangers – if only for one night.
Get married at Denny's
Breakfast is the most important meal of the day, so why not incorporate it into one of the most important decisions of your life? Say your "I Dos" with a side of bacon in a Denny's wedding ceremony at the Fremont Street Experience.
Eat a lucky meal
The $7.77 Gambler's Special at the Hard Rock Hotel's Mr. Lucky's is a must-eat-meal, unless you're allergic to shellfish. The meal is only $7.77 with a Player's Club Card and comes with steak, three grilled shrimp, a choice of potato or broccoli and a salad. Though it is not listed on the menu, it is served 24/7 -- just ask your server. Article courtesy of Vegas.com